Training Classes at The Yellow Dog's Barn
Upcoming Classes
The Yellow Dog's Barn is happy to host training classes at our facility.
Our classes are held outdoors
Please visit RedPointyDog.com for info on their indoor classes and private training.
Each session runs for 4 weeks/Cost $125

| | | |
| --- | --- | --- |
| Session Type | Dates | Times |
| Level 1 Manners | Sept 5 2020 | 10 AM |
| Level 2 Manners | Sept 5 2020 | 11AM |
| Puppy Basics | Oct 1 2020 | 6PM |
| Level 1 Manners | Oct 3 2020 | 10AM |
| Level 2 Manners | Oct 3 2020 | 11AM |
Registration:
Meet our professional dog trainers: Jake Belmont & Louise Daigle of Red Pointy Dog Training.

To register visit, https://www.redpointydog.com/classes
Training Class Downloads
Louise started training dogs when she first wanted a puppy. The deal was if she could train the family dog to be more well mannered then she could get her own. Louise had no idea what she was in for. Manzo came to her a drooling, shaking mess of fear and anxiety. She soon realized she had her hands full and had to learn more about behavior modification if she was going to help Manzo succeed. Louise took every class and learned all she could to help him feel more confident about his surroundings. Fast forward 8 years and here we are, Louise sharing her passion of dog training and strengthening dog-human relationships, with all of you!​In 2012 Louise graduated from UNH with a degree in Applied Animal Science. From there she went on to work at the New Hampshire SPCA where she trained shelter dogs and taught a wide array of classes. A few years later she began work at the Lakes Region Humane Society creating a Behavior Rehabilitation Program where they take in dogs with undesirable behaviors, train them, and find them homes. Her work involved assessing each dog and creating a behavior modification plan for their specific needs. This way, adopters can have success with their new companions. Louise now runs Red Pointy Dog full time with Jake and offers a wide array of services to the community.​Louise is a supporting member of the International Association of Applied Behavior Consultants, a certified Canine Good Citizen Evaluator, and a Certified Professional Dog Trainer Knowledge Assessed. Constantly learning, Louise regularly attends seminars and webinars to stay up to date with the newest science behind canine behavior. ​"I am a hiker, I love the mountains! I enjoy being outside with my dogs more than anything. Above all else, I'm a dog lover. I share my home with two Australian Cattle Dog's, Manzo (below) and Piper (above) the Red Pointy Dogs. ​"

Jake got his start in the dog world right here at TYDB nearly 9 years ago. Fascinated by the various behaviors individual dogs can display, Jake created his business around the study and practice of changing dog behavior. He believes training should be fun for dogs and humans too. It is because of this that Jake uses positive methods of training and educates owners on the pitfalls of correction based techniques. Jake believes that positive training methods develop trust and strengthen a person's relationship with their dog. When your dog enjoys working with you, they are more willing to do so.

Jake is a professional member of the Association of Professional Dog Trainers and is a Canine Good Citizen Evaluator with the American Kennel Club. He continues his studies and education because dog training is a growing and evolving field. Jake shares his home with the "Red Pointy Dogs" in Strafford. In his free time, you can find Jake hanging out with Manzo and Piper, mountain biking, or hiking in the white mountains with Louise.
Weather Permitting
Our Training Classes are held in the spring, summer and fall months only and are held outdoors.
Please be sure to dress accordingly (sunscreen, sun glasses, light jacket or sweatshirt, rain jacket for light rain or possible showers).
Sometimes the weather can change our plans. In the event of rain, thunder or undesirable weather, we may decide to cancel or re-schedule training classes.
If classes are canceled, we will post such notification on TYDB Website, TYDB Facebook page & Red Pointy Dog Training Facebook page. We will also attempt to contact each client via phone, text or email.
Please be sure to check for notifications if the weather does not look promising before coming to class!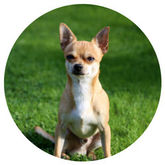 Puppy Basics
This class is for dogs 3 to 6 months old and up-to-date on shots and vaccinations. This class requires you to bring 100-150 small pea sized training treats and a 6 foot, non-retractable leash to each class.

Puppy hood is a time of playing, laughing, learning, exploring and growing (all too fast!). At this impressionable stage, building a trusting relationship is paramount too. That is why this class will be focused on a training style that is positive and fun. Using a clicker or marker word (yes, nice, etc.) to shape and reward appropriate behavior instead of correcting undesirable behavior. It is our belief that training should be fun for both dog and human. So let's grab our treat pouches and have some fun!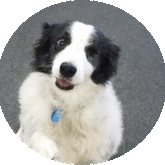 Basic Manners
This class is for dogs 6 months and older and up-to-date on all shots and vaccinations. This class requires you to bring 100-150 small pea sized training treats and a 6 foot, non-retractable leash to each class.

So you've just adopted a dog and you are wondering what to do next. Or maybe the behaviors that were cute and harmless when your dog was a puppy are becoming a problem now that they are growing bigger and stronger. The answer is Basic Obedience class! Through positive, relationship building training methods we can form our dogs behavior to fit our desires, and our dogs will have fun doing so! Just because they might have missed learning these behaviors when they were puppies definitely doesn't mean they can't learn them now. With the proper techniques, all dogs, no matter the age, love learning new tricks.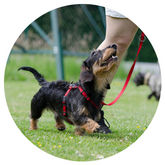 Recall Mini Series
This three-week class focuses on all the skills you need to help build a perfect recall response. We will work on proofing this behavior in all kinds of situations and in the face of all kinds of distractions. This class is not suitable for aggressive or reactive dogs.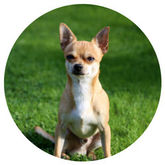 Leash Manners Mini Series
Have a dog who drags you down your driveway, through the woods or to every single smell they come across? This three-week class is for you! We will focus on building all the skills you need to have an enjoyable walk with your best friend and help save your shoulders!

Tricks Mini Series
Whether you are looking for a fun way to wear your dog out a little, build your relationship or just show off to your friends, learning tricks can be fun for both you and your dog. In this fun three-week class we will work to achieve all those things while working towards your Novice Trick Dog Title.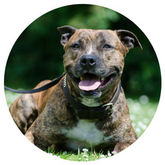 Canine Good Citizen
This Class focuses on working to get your Canine Good Citizen certification. A great next step for someone who as already gone through some basic training, this class works on all types of real-life training scenarios. Whether the certification is important to you or not this class is full of great training situations for you and your dog.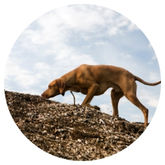 Trail Manners
This class will focus on all the behaviors you need to have a great time out on the trail. Often a place of stress for many people, a well-behaved dog can change that to one of the things the two of you look forward to most. A portion of this class will take place out on the trail.
Contact us for an appointment to tour our dog boarding and dog day care facility.